CAPE COD
If you've seen a more beautiful and peaceful place than Cape Cod then I'd love to hear about it but for me there is no greater place on earth than the mesmerising, crashing waves of the Atlantic upon the Massachusetts coastline.
At just over an hour drive from Boston Cape Cod is perfectly hidden from the city madness to allow for its delightful and quant sparkle to be kept preserved in beauty and nature. Filled with charming scenery and famous for its lighthouses the Cape has so much to offer. Many areas are full of architectural and culinary gems, chowder shacks and upmarket dining delights are all waiting to be found.
Whatever you're looking for – a day trip, a long-weekend visit, or an immersive weeklong holiday I can assure you that Cape Cod will deliver. It is a unique family friendly favourite summer escape for travellers in search of an entrancing beach getaway.
The biggest town is Hyannis, famous as the home of the Kennedy clan. And I think that's where I'll start! Back in 1960 President Kennedy used his waterfront property on Cape Cod as a base for his successful presidential campaign, since then it has been used by the Kennedy family through the generations as a summer White House and a home. It is still owned by the Kennedy family to this day most recently by Ted Kennedy Jr nephew of President John F Kennedy. While of course the property is not open to the public you can still explore the Kennedy Compound and take a step inside the life of the former president and his family by taking a trip to the Kennedy museum in Hyannis or experience the legacy trail. The museum uses interactive multimedia exhibits to give you an in depth look at how to family lived during their time on the Cape. It's a must for culture, history and a really enjoyable heart-warming day out.
From Hyannis you can catch a ferry to nearby Nantucket or Martha's Vineyard. And this is another pit stop I Shall take, Marthas Vineyard!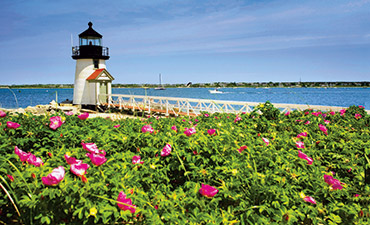 It does exactly what it says on the tin, it produces WINE! Yes you do need to take about a 40 minute ferry to get there but it's so worth it to see this tiny island and enjoy a day of exploring a place you can only try to image in your dreams. Martha's Vineyard covers 100 sq. miles of beautiful beaches, nature preserves and historical villages. The lighthouses are a fascinating display and tend to make me lose hours of the day in pure calm and happiness, there's famous brightly painted Gingerbread Cottages, there's a magnificent carousel, Aquinnah Cliffs. The list goes on…. With amazing food, shopping, galleries and sightseeing all packed into a small island you won't want to ever leave. I could go on for pages of extreme detail but I'll never do it justice so in short it will ensure a trip of a lifetime. Enough Said!
Now lastly as I jaunt down memory lane there's Provincetown. No visit to Cape Cod is complete without a visit to this fun-loving lively town at the tip of the peninsula. Provincetown (or "P-Town," to locals) has long attracted painters and photographers, writers and poets. It's a great vacation spot for everyone including the LGBTQ community who take pride in the long heritage of a fully open and integrated way of life here. Provincetown history and culture are shared at its many museums and art galleries. It's full of cool boutiques and quirky scenery to make it the fun and funky town people from around the world love to visit. With the most friendly of people spending a day here can wash your cares away and let you soak in excitement and intrigue.
Beyond the above mentioned hot spots Cape Cod has so much more adventure waiting, with bikes rides, mouth-watering dining pleasures and everything anyone could want in a relaxing holiday destination.
Did I mention that the shopping is great also!!!
If I had one place I could stay for my lifetime it would be here but if you can't stay forever it's a least worth a visit!